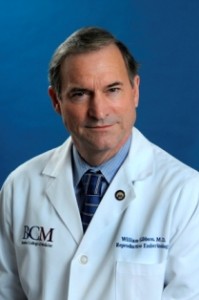 Dr. William E. Gibbons is a professor of Obstetrics and Gynecology and Director of the division of Reproductive Endocrinology and Infertility at Baylor College of Medicine.
Dr. Gibbons is certified in obstetrics and gynecology, and reproductive medicine and infertility. He specializes in reproductive endocrinology and infertility. A nationally renowned physician, Dr. Gibbons has been on the list of Best Doctors in America for more than 15 years. Dr. Gibbons is the 2010 President of the American Society for Reproductive Medicine and Past President of both the Society for Assistant Reproductive Technology and the Society for Reproductive Endocrinology and Infertility.
Dr. Gibbons earned his medical degree from Baylor College of Medicine (BCM). His training includes an internship and residency in obstetrics and gynecology at Baylor Affiliated Hospitals in Houston. Dr. Gibbons also completed a fellowship in reproductive endocrinology at BCM. After postdoctoral work, Dr. Gibbons joined the faculty of the University of Southern California (USC) in Los Angeles where, with two other physicians, he launched the second successful in vitro fertilization (IVF) program in the United States.
Dr. Gibbons returned to Baylor College of Medicine from USC to direct the College's reproductive medicine fellowship and IVF program. He later became director of BCM's division of Reproductive Medicine. Dr. Gibbons transitioned to the position of chair of the obstetrics and gynecology department at Eastern Virginia Medical School (EVMS) in Norfolk, an institution that produced the first IVF child in America. At EVMS, Dr. Gibbons directed the school's pre-implantation genetic diagnosis (PGD) team, which was one of the first PGD units in the world. Dr. Gibbons returns to Baylor College of Medicine to devote more time to patient care, research and the evolution of assisted reproduction.