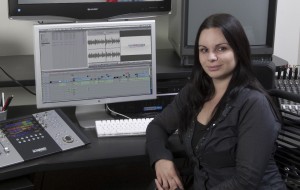 A British native, Natalie Gerber graduated from The Los Angeles Film School and began her editing career in Los Angeles as an Assistant Editor working on documentaries, short films and reality television. Over the past 8 years she has made her way to Senior Editor for the post production company Alera Enterprises, creating reality television shows that cover a wide spectrum of topics and styles such as 'Overhaulin' for TLC, 'Living with Ed' for Home and Garden then Discovery Green and 'Hot Import Nights' for Speed.
She has also edited commercials for companies such as Tire Pros, Mint Automatic Floor Cleaner and Live Nation. She has been working heavily in the ever growing world of internet videos, creating webisodes for yahoo sports.com, homedepot.com and planet green.com.
The topic of infertility and assisted reproduction has become second nature to Natalie. Since 2006, along with the producers at Alera, she's actively helped develop projects that explore this world. A series called 'Egg Factor' and a documentary called 'Expecting to Expect' are due in the near future.
When away from her editing station Natalie and her husband enjoy spending time with their new son Miles.