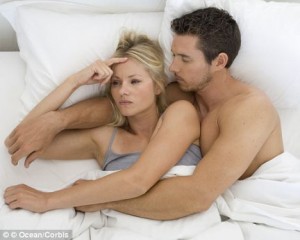 Women who have difficulty reaching orgasm during sex could soon have help thanks to a medicated nasal spray.
Up to 30 per cent of women suffer from the condition known as anorgasmia, yet there are currently no approved treatments on the market.
Now scientists are developing a treatment that's been nicknamed the 'female Viagra' after the erectile dysfunction drug first prescribed to men in 1998.
The treatment, called Tefina, needs to be administered in droplet sized doses via the nostrils two hours before sex and is expected to work for six hours. The testosterone-based treatment is thought to boost sexual desire by activating relevant parts of the brain and increasing blood flow to the sexual organs. Read full article.